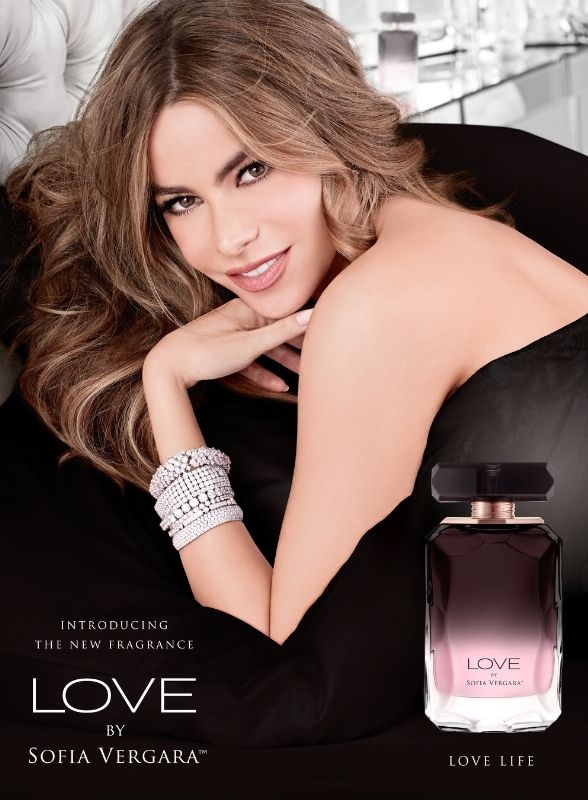 Sofia Vergara Introduces Second Fragrance for Women
-- Sofia Vergara will Appear Live on HSN on October 22 to Introduce the set for Fans Everywhere
NEW YORK, Sept. 2, 2015 /PRNewswire/ -- Emmy award-winning actress, style icon and entrepreneur, Sofia Vergara is often described as irresistible, confident and ultra-sexy – it's only fitting that her newest fragrance embodies these very facets. Stemming from the success of her first scent, LOVE BY SOFIA VERGARA complements the classic SOFIA, adding a sensual twist to any fragrance wardrobe.
"I want my brand to reflect the many aspects of a woman's life. LOVE is for the woman who truly enjoys being a woman...and loves who she is," Sofia says.
LOVE BY SOFIA VERGARA is an oriental, fruity fragrance that opens up with a bouquet of bright, fruity notes, with middle notes symbolizing the love found in every heart and a sweet base that reveals a sense of seduction. Embodying the beautiful feeling of a passionate kiss or warm embrace, it awakens the senses and conjures the emotions of romance. Mysterious and elegant, LOVE BY SOFIA VERGARA celebrates all that it is to be a woman.
The evocative notes include:
Top: Mandarin, Passion Fruit, Orange Blossom
Mid: Purple Andean Orchid, Magnolia, Colombian Coffee Flower
Base: Amberwood, Ambrette Seeds, Vanilla
"Sofia is the ideal partner and a terrific collaborator. She knows what she likes, is open to new ideas and has a pulse on what women want today. Her innate charisma, passion and energy charges up a room as she has the ability to stir people's creativity, passions and emotions," says Donald Loftus, President of Parlux Ltd.
"Nobody loves being a woman more than Sofia Vergara. She fully embraces the many facets of her life with vitality, humor and humility. Sofia is an incredibly passionate woman and with the introduction of her second fragrance, LOVE, she is able to share yet another aspect of her life with her fans," says Nancy Overfield, President of Latin World Entertainment Licensing.
To add an element of Sofia's Colombian heritage, the bottle has been carved to resemble a multi-faceted emerald, the country's native gem. Designed in smoky pink and purple hues, it speaks to Sofia's glamour, allure and sensuality.
To further support the launch of the fragrance, Sofia will be sharing video footage and engaging with fans across her social media channels, and will appear live on the direct-to-consumer, live content retailer, HSN, on October 22 to speak with fans, share her inspiration for the scent and introduce an exclusive LOVE BY SOFIA VERGARA Gift Set.
The Eau de Parfum will retail for $55 (100ml) and $32 (50ml) and will be available beginning October 2015 at retailers nationwide, including HSN.com, Perfumania and Perfumania.com.
ABOUT PARLUX FRAGRANCES, LTD
Parlux Fragrances, LTD, a leading global beauty company designs, manufactures, markets and distributes prestige fragrances and related products since 1987. It holds the licenses for notable fragrance brands including Rihanna, Jessica Simpson, Vince Camuto, Kenneth Cole, JAY Z and Tommy Bahama among others.
Parlux Fragrances, LTD is a wholly owned subsidiary of Perfumania Holdings Inc., an independent, national, vertically integrated wholesale distributor and specialty retailer of fragrances and related products. It is traded on the NASDAQ exchange (PERF).
http://www.parlux.com/
About LatinWE
Latin World Entertainment is the premiere Hispanic talent management, entertainment-marketing, production and licensing firm in the U.S. LatinWE represents the biggest stars, opinion makers and trendsetters in the Spanish-speaking entertainment world and leverages that star power to take brands into the burgeoning US Hispanic market. www.latinwe.com.
About HSN:
HSN is a leading direct-to-consumer live content retailer, offering a curated assortment of exclusive products and top brand names to its customers. HSN incorporates entertainment, inspiration, personalities and industry experts to provide an entirely unique shopping experience. At HSN, customers find exceptional selections in Health & Beauty, Jewelry, Home/Lifestyle, Fashion/Accessories, and Electronics. HSN broadcasts live to 95 million households in the US in HD 24/7 and its website - HSN.com features more than 50,000 product videos. Mobile applications include HSN apps for iPad, iPhone and Android. HSN, founded 38 years ago as the first shopping network, is an operating segment of HSN, Inc. (Nasdaq:HSNI). For more information, please visit HSN.com, or follow @HSN on Facebook and Twitter.
Photo - http://photos.prnewswire.com/prnh/20150901/263047
Photo - http://photos.prnewswire.com/prnh/20150901/263048
SOURCE Parlux Fragrances, LTD
CONTACT:
Carly Hill, 212-230-1800, carly@alisonbrodpr.com
RELATED LINKS
http://www.parlux.com
Sofia Vergara Sofia Three Piece Gift Set for Women
Tweet